Your Ceremony Options at Kinkell Byre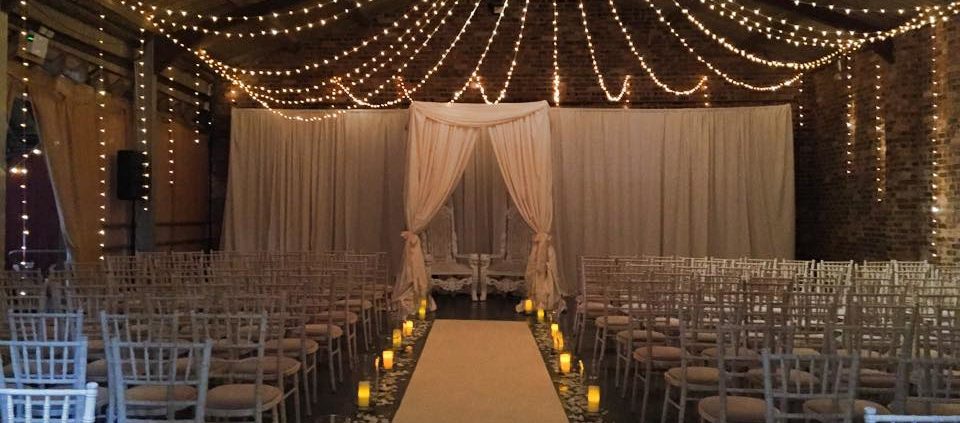 We have a fantastic choice of on-site locations for your unique ceremony. Inside and outside!
---
Here at Kinkell we have 3 indoor and 3 outdoor locations for your ceremony. 
Indoor locations at Kinkell Byre:
Indoor Location 1.  Our most popular Ceremony option is in the "Tattie Shed". This shed that was added to the Byre in more recent years for storing potatoes in the winter. This is why this part of the building looks different to the rest of the Byre and has very little natural light. 
The Tattie shed is a large square room with red brick walls and a tin roof. However, it is also home to the custom-built starlight canopy, which Kinkell is well known for. This beautiful lighting canopy was built by Stephen Leslie of i-light to create a striking focal point in what originally was a very industrial looking shed. 
The "Tattie Shed" can sit up to 200 guests comfortably for a ceremony and there are 3 different layouts in which you can choose from. 
The most popular is the "horse shoe". This is when the chairs are positioned in a semi-circle facing the red brick wall. 
The second setup follows the flow of the canopy, sitting your guests in a full circle with the bride and groom saying their vows in the centre of the room. This is a very modern and unique setup for a wedding ceremony, which will leave your guests in awe and ensures that your wedding ceremony stands out from others.
The third and final setup in this room is a more traditional option with a long grand aisle for the bride to walk down with guests seated in rows at either side. At the bottom of the aisle the wall would typically be pipe and draped to create a beautiful white or coloured material backdrop adding a grand and luxurious look your wedding ceremony. 
Indoor Location 2. The Entrance. This area, as you may have guessed is typically used as the entrance but it is the most charming room in the building. With lots of natural light flooding down the walls and its simple church-like shape, this is the most traditional looking ceremony location at Kinkell Byre. This area can sit 80 people in the lowers section and an addition 40 seated in the raised section.
Indoor Location 3. The glass door located in the bar area is our newest feature added to the Byre and has given the venue a slight modern twist framing our amazing sea views. This area is ideal for a small wedding under 100 guests and will allow you to say your vows in front of our spectacular sea views while fully protected from the Scottish weather. 
Outdoor locations at Kinkell Byre:
Outdoor Location 1. The Country Garden with views of trees, a beautiful rustic field and an old 1800 water tower ruin forms a very pretty yet quirky setting for a ceremony. This lovely area is perfect for smaller, more intimate ceremonies.
Outdoor Location 2. There are two options outside the front of Kinkell Byre, which are the raised gravel area and the lower grass field. Both areas have breath-taking sea views. We are of course slightly biased, but I am sure many of you will agree that the view from outside Kinkell Byre is simply stunning and without a doubt one of the venue's main features.
We have views right up the North East coast of Scotland, Carnoustie, Arbroath and Red Head and as far as Cruden Bay visible on a clear day. We are blessed with a unique micro-climate here on the east coast of Fife, granting us as many sunny days as the south of England, it's surprising we do not see more ceremonies taking place outside!
Outdoor Location 3. Woodland Backdrop. This is an area that we have not yet had a ceremony but it would be STUNNING! For romantic boho wedding vibes we have the perfect wild flower garden which sits in front of the woodland area at Kinkell. This area would be simple yet beautiful and require very little or no decor. It is quite a small area meaning it would be best for ceremonies under 80 people.  
For more outside ceremony inspiration check out our Outdoor Ceremony Blog.
https://kinkellbyre.com/wp-content/uploads/2020/01/12011285_10153720175111979_6444432575640614182_n.jpg
720
960
Admin
https://kinkellbyre.com/wp-content/uploads/2023/10/KB-Cow-Website-qwer-1-300x150.png
Admin
2018-10-01 15:38:37
2021-06-22 14:11:34
Your Ceremony Options at Kinkell Byre