Real Life Wedding – Amy & Frazer ~ Wedding Date – 23rd June 2018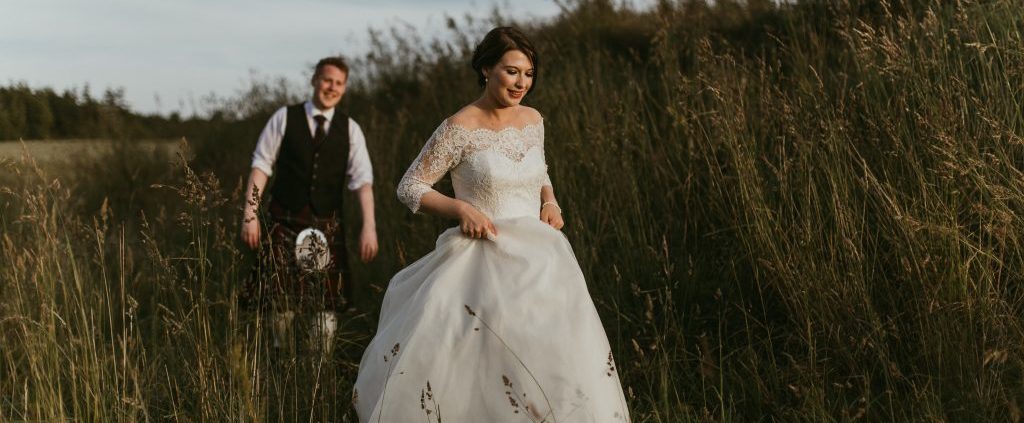 ---
"We are absolutely delighted with our wedding day and all that Kinkell Byre had to offer us!"
Tell us a little bit about planning your wedding?
When we got engaged, we both agreed we were in no hurry to get married too quickly, as having just bought our first flat together we were still working on renovations and wanted to take our time to make our wedding exactly how we wanted it.
Our only initial thoughts were that we wanted something that we could make unique and customise to match what we believed was a reflection of us as a couple.
Location wise, we are both from around the Aberdeen area and wanted to choose a venue neither of us had been to before and one that would hopefully be a surprise to our friends and family. Having been to so many weddings we both agreed the ones that can be the most fun are those where we've travelled to and made a weekend of. Ideally, we wanted a June wedding, as all the best things for us have happened in June.
With this criteria in mind we did some research of venues around Scotland and one of the first we came across was Kinkell Byre. St Andrews and Crail are both places close to our family's hearts and we believed the area would be a great place for our guests to spend some time in. We planned a visit to Kinkell and within about 10 minutes of being in the venue we knew this was the one. There was no need to even venture elsewhere, it had everything we wanted and with a stroke of luck it had a Saturday date in June 2 years later which is exactly what we hoped for.
From then on everything seemed to flow quite easily, Sam & Sandy at Kinkell were amazing at helping us with suggestions of suppliers and steering us in the right direction. Meeting Cath at Blue Poppy, who offered such friendly advice and suggestion from her experience of Kinkell Byre, was an instant no-brainer. (She later created the most incredible swing which hung at the alter above us as we said our vows and it was an instant show stopper – if only we could have kept it forever!)
One of the most important aspects for us at our wedding was the food!! As known 'foodies' we wanted to make sure we gave our guests a meal to remember and wanting to steer away from the norm we had desires for an Italian feast, reason being that Amy's family has Italian heritage and Frazer's family just love all things Italian. We had been in touch with a few caterers with our ideas but Scott's Catering Services was the one who stood out. Scott also travelled from Fife to Aberdeen on a Friday evening to meet with us before we had even agreed to proceed with his services which to us instantly suggested excellent service. We were able to plan and tailor our menu with Scott, and even had a tasting thrown in.
With our dining room design of long trestle tables, beautifully designed with trailing greenery by Blue Poppy, romantically lit by iLight and amazing sharing platters and pasta dishes by Scott we had our ideal Italian feast with friends and family – mangia mangia!
The rest of the venue was again so expertly lit up by Steven at iLight who designed the room with us and took control of our music on the day. In addition we used lots of jars, apple crates, empty gin & whiskey bottles with some fairy lights in, prints of some quotes from our favourite bands and also photos of us over the years with our friends and family to decorate the rest of the byre. It came together beautifully.
What did you both enjoy planning?
The fact that KB is a "blank canvas venue" means that literally everything can be personalised to match our tastes. This means that all our ideas could be incorporated into the day so I think we had the most fun coming up with quirky original ideas to really make the day feel like ours and Kinkell Byre were fantastic at accommodating any ideas we had and actively encouraged new concepts.
One of the biggest highlights for us was writing our ceremony along with our chosen humanist Dorothy Nowak. We had opted for a humanist wedding as in our experience it meant the ceremony would be personal and very 'us'. We were so glad we went with this route as Dorothy allowed us to be part of the whole planning of it. We were able to tell our story as a couple, write some secret parts about what we love about each other, which Dorothy read out on the day as a surprise to us both, and we also wrote and exchanged our own vows. Dorothy told our story exactly as we would tell it, and our guests all commented that they were totally engrossed and that the ceremony felt so inclusive and had everyone laughing and crying (happy tears, of course) at the same time.
Tell us about your wedding day. What made it special for you?
To describe our day in one word it would be – happy! From getting ready in the morning with our respective families and bridal party to the end of the evening where the floor was full and everyone was having a great time, the entire day was simply happy.
Kinkell Byre were amazing at assisting us in the day before the wedding and on the morning of the, where Frazer could come by and ensure all the finishing touches had been seen to, before arriving with his groomsmen later in the day, so he could be relaxed and ready to get married.
Our ceremony was beautiful and personal, and we were able to incorporate some of our favourite Scottish traditions which allowed various members of our family to participate in the ceremony too.
We were blessed with a stunning day of weather, making those Kinkell Byre views all the more wonderful (which even in the rain still packs a punch), when guests mingled and enjoyed the tasty canapes with a glass of prosecco in the grounds whilst we got some stunning shots done with our photographer. Steven from iLight was an excellent master of ceremonies for the day, at no point did we ever have to think about what was going on or where we had to be as it was all taken care for us,  music cues and all. Steven introduced us to dinner welcomed by a merry crowd of friends and family who were all suitably happy and enjoying the prosecco before sitting down to the afore mentioned Italian feast. Before tucking in, our speech givers had the room in simultaneous floods of laughter and tears, adding to the fun of the day.
When the pasta had settled and the lemoncello had been drank, our guests then enjoyed the offerings of beer pong, a Scottish gin table, and, for those who caught it, the stunning Fife sunset, before dancing the night away to The Kicks (with a short break for some pizza of course).
What made your day so special?
It's hard to pinpoint what made our wedding day/weekend/week/month/year (the build-up was as much fun as the day itself!) so special. But sharing it with the people we love the most is definitely up there. Not only on the day itself but we were able to incorporate as many people, into our wedding as we could feasibly manage. We enlisted the help of so many of our talented friends and families offerings of readings, hair design, make up, stationary design, sign making, home baking, building, crafting… the list goes on. We came to realise that we have a very talented bunch around us who we appreciate so much and who being able to incorporate into our wedding made it all the more special.
Of course in addition to this, having the venue and wedding of our dreams exactly as we both dreamed it would be was the absolute icing on the cake. It was genuinely more than we ever could have imagined.
What advice do you have for other couples planning their wedding?
Our advice would be to try and get the "big ticket" items ticked off as quickly as possible e.g. date, caterer, florist, band and drinks providers. Although this sounds obvious enough we really were grateful to have these things in the diary and deposits paid a good two years before our wedding as this offers obvious piece of mind and also meant that we had more time to consider and make real all the little personal touches we wanted to incorporate into our big day.
It's very true what they say, the day does fly by. Our advice to anyone is to just take that minute, sit back at dinner and look at the room, stand back from the floor and watch those moves, all the people who are there are those who genuinely choose to be there for you as a couple and you want to appreciate them all too. We were so glad we opted to have a venue with that little bit of distance as, as we had hoped, the majority of our guests opted to make a weekend of it, meaning the wedding inadvertently became a 3 day event, letting us greet so many of our the guests day before as they arrived with excitement and anticipation, and on the day after where we could sit back and relax and reminisce on the wonderful day passed.
Our wedding accommodation was Morton of Pitmilly, just a 5 minute drive from the Byre offering beautiful cottages and lodges in amazing surroundings, with excellent facilities. Our families and bridal party and some more of our guests opted to stay here too which meant on the Sunday, the day after the wedding, we could host a BBQ which Morton of Pitmilly were more than willing to accommodate.
How is married life treating you?
We are loving married life, it's been over 3 months since our wedding but our guests (and others who have only seen pictures) still want to talk about our wedding day and tell us just how much fun they had. We are still yet to go on our Honeymoon (not happening until December) so we have still managed to stay in the bubble, making the whole experience last that bit longer.
We have so many plans ahead of us that we can't wait to become reality as we continue to build our life together and we are so glad that we will forever have the memory of our wonderful wedding at Kinkell Byre to look back on happily.
Photographer – Kellee Quinn Photography
Supplier shout outs – Catering/Caterhire – Scott's Catering,  Florist – Blue Poppy,  Videographer – Chris Kelly Films,  Make Up – Samantha Cardno Make Up Artist,  Humanist – Dorothy Nowak,  Lights – iLight
https://kinkellbyre.com/wp-content/uploads/2020/01/2018_06_23AmyFrazer@KinkellByre-932-1024x683-1.jpg
683
1024
Admin
https://kinkellbyre.com/wp-content/uploads/2023/10/KB-Cow-Website-qwer-1-300x150.png
Admin
2018-06-23 15:23:00
2023-02-14 15:34:06
Real Life Wedding – Amy & Frazer ~ Wedding Date – 23rd June 2018