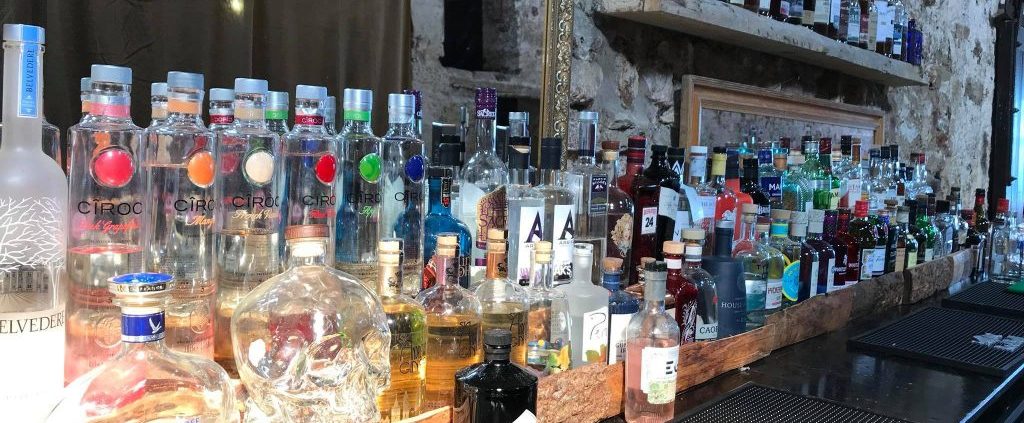 We have a preferred bar supplier and here are the reasons why.
Our preferred bar supplier – Event Bars St Andrews
Here at Kinkell Byre we have decided to have a set bar supplier, Event Bars St Andrews. Event Bars is run by two gentlemen, Brian and Ross who we have come to know very well. 
By having a set bar supplier, we feel this gives our clients a bar set up which appears to be a permanent feature and also provides a very high standard bar service without sacrificing the flexibility of the venue. 
What do they offer that other mobile bar companies don't? 
Well… Event bars are based here at Kinkell Byre so this means that it works out cheaper for the client. They also have all their stock on site which allows them to stock more,
They have over 45 different gins in stock as well as 35 different malt whiskys!!
Stocking 'Big Al's Pale Ale'!
Named after the 17yr old pet bullock at Kinkell Byre, hand reared since being orphaned at birth!
Many thanks to St Andrews Brewing Co. for producing this stunning ale!
How it works 
The way Event Bars work is pretty straightforward really. As long as you have more than 100 adult guests attending your wedding there is no charge for their services. If however you have less than 100 adults attending there is a small setup fee applied which is in place to ensure they cover all of their costs.
They will provide and install a fully equipped bar which includes draught Tennents, Guinness and, depending on guest numbers, a real ale from St Andrews Brewing Company.
The extensive drinks list includes approximately 40 different gins, 30 malt whiskies as well as various vodkas, rums, bottled beers/ales, ciders etc.
Event Bars can also proudly boast to having their very own bottled ale, named 'Big Al's Pale Ale' ,which is brewed in memory of the much loved pet bullock, here at Kinkell Byre.
As well as the bar provision, Event Bars also offer another great service which has proved to be extremely popular…
They can supply you with fantastic wines and fizz for the reception and breakfast at extremely affordable prices. They take care of the ordering, delivery and chilling of the wines so it is one less thing for you to think/worry about. Added to this, they will happily advise you on quantities required and can even offer you samples to try at your leisure!!
Their wine list is comprehensive to say the least and definitely worth considering!
Get in touch 
If you are planning a Kinkell Byre wedding, here is how to get in touch with Event Bars St Andrews. 
Brian Scott Telephone 07803 034764
Ross Methven Telephone 07763 878044
info@eventbarsstandrews.co.uk
www.eventbarsstandrews.co.uk
---
https://kinkellbyre.com/wp-content/uploads/2020/01/Untitled-image-1024x768-1.jpg
768
1024
Admin
https://kinkellbyre.com/wp-content/uploads/2023/10/KB-Cow-Website-qwer-1-300x150.png
Admin
2018-06-05 16:18:49
2021-06-22 14:02:48
The bar at Kinkell Byre